Contributing to efficient API process development using asymmetric synthesis technology
In recent years, there have been cases where new compounds with extremely complicated chemical structures and compounds with unknown physical properties have been identified as new drug candidates, and SPERA PHARMA have been increasingly requested to develop and GMP manufacture such compounds. The challenges of developing the manufacturing methods for scale-up, in response to customer requests that prioritize development speed, show the high expectations put on SPERA PHARMA's technological capabilities,
We talk to Masatoshi Yamada, Senior Researcher, Pharmaceutical Research Division, about how the development of manufacturing methods for complex compounds on a strict timeline is being confronted, with reference to some recent examples.
■ Quickly taking basic research results to the clinical stage
―Please tell us who is in charge.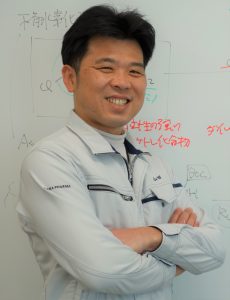 For over 20 years, I have been in charge of developing industrial synthetic methods for APIs or intermediates, making full use of process chemistry 1) and developing new highly productive manufacturing methods using asymmetric synthesis technology.
*1 Chemistry to study the scale-up of manufacturing processes for useful compounds, from milligram to kilogram or ton scale
―What kind of requests do you receive?
There are many requests, mainly from the research departments in pharmaceutical companies and national universities, to develop manufacturing methods for new drug candidate compounds. In addition, they ask if we can find different synthetic methods that can improve the safety, cost, yield and quality of existing drugs, including generic drugs.
―How many new drug candidate compounds are there?
According to some recent data, from more than 700,000 lead compounds 70 were able to enter clinical trials, and 28 compounds were approved for application. The probability of success is actually 1 in 25,000, and it is said that it takes over 10 years 2).
*2 According to a survey by the Japan Pharmaceutical Manufacturers Association, data from the 5th Meeting of the National Center for Advanced Medical Research, Future-Way Study Group, 2018
―How does the research proceed?
In drug substance manufacturing, speed is of the utmost importance at the nonclinical and early clinical development stages, and it is necessary to synthesize the target drug substance at an early stage. As the stage proceeds, there are increased demands on the robustness, raw material availability and cost, process yield and quality. In addition, research can only proceed after confirming operational safety and the effects on the human body.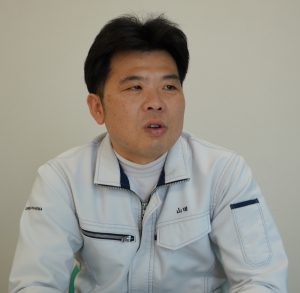 Pharmaceuticals often have complicated chemical structures, and especially in the process development of new drugs, there are many new compounds from the intermediate stages onwards with unknown physical properties, which can often lead to some big obstacles.
―Are you aware of this?
We are always conscious of proposing effective synthetic methods, by arranging known reactions and combining them with ideas of new reaction possibilities. By finding cost-competitive manufacturing methods, overall development costs are suppressed, which not only reflects in corporate profits but also in drug prices. As a result, we contribute to medical care and reduce the financial burden on patients.
■ Possessing a high level of asymmetric synthesis technology useful for chiral drug synthesis
―Please tell us about chiral drugs.
The drug substance consists of a single molecule in which various atoms are bonded. Among them, hydrogen, carbon and nitrogen are the most common atoms that make up the molecular structures. Furthermore, if a carbon atom's four bonds are each bonded to completely different groups, two isomers can be formed of mirror image (right-hand and left-hand relationship), which do not overlap each other. The carbon atom is called an asymmetric carbon, which divides the product into two enantiomers, the (S) and (R) forms.
A drug substance that has such a point of asymmetry is called a chiral drug. In general organic synthesis, it is difficult to obtain only one of the enantiomers, as racemates are formed with a 1: 1 ratio of (S) and (R) forms. Therefore, when it is necessary to separate racemates, the resulting yield is reduced to less than half.
―Is it possible to synthesize only enantiomers?
Currently, there are many asymmetric synthesis methods that can synthesize only the useful enantiomer, and most of them are roughly classified as follows.
・ Catalytic asymmetric synthesis (using asymmetric metal catalysts)
・ Biological asymmetric synthesis (using biocatalysts such as enzymes)
・ Asymmetric synthesis using a stoichiometric chiral auxiliary
Recently, research on employing organic molecular catalysts that do not use metals has been flourishing, but we have been researching the most industrially used asymmetric synthesis technology of asymmetric hydrogenation since our time in Takeda Pharmaceuticals. The technology has been highly evaluated both in Japan and overseas, and by stocking more than 300 types of asymmetric ligands, including our own ligands, we can quickly match the needs of our customers by chiral catalyst screening. Furthermore, since we have pressurization equipment for studying scale-up conditions, it is possible to quickly accumulate scale-up data for pressurized reactions, such as asymmetric hydrogenations.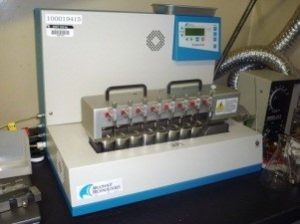 10 mL pressure reactor apparatus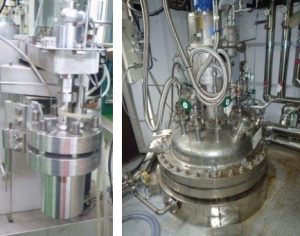 (Left) 1 L Pressurized Reactor  (Right) 500 L Pressurized Reactor
■  Development of scalable API processes
―What kind of requests have you received recently?
A customer requested that a drug candidate compound with a complex chemical structure be manufactured as the first GMP drug substance, to follow the GLP test drug substance, while putting highest priority on the development schedule. Frankly, when I compared the schedule with the requirements of the synthetic method under consideration, I felt that it was extremely tight.
―What kind of difficulties did you have?
Due to the very long lead time for obtaining starting materials, and the high priority put on the development schedule, it was necessary to quickly order the starting materials. But after ordering, the only option for manufacture is to use those materials, and as a result, the synthetic method cannot be drastically changed. I had a hard time because I had to optimize the existing method for scale-up.
―How did you respond?
The chemical structure of the drug candidate compound contained multiple nitrogen atoms, and the synthesis utilized a number of metal-catalyzed reactions. By avoiding reaction conditions in which the nitrogen atoms would coordinate to the metals and combining a suitable work-up process, we could take advantage of the compound's basicity and succeeded in manufacturing the material for GLP testing as well as the GMP drug substance. I was relieved to be able to satisfy the needs of our customer. I have since heard that the alliance activities are proceeding smoothly for this drug candidate compound, and I think we helped with that.
―Where was the breakthrough?
There are still issues, but the direct use of catalytic asymmetric hydrogenation for a substrate with strong coordination, without the need for protection, leading to an optically active substance, has great value for future manufacturing. As protection and deprotection were required when we received the request from our customer, we were able to significantly shorten the process.
―It must have been rewarding
Our customer was very grateful, commenting that "only Spera said they would undertake investigation on such a complicated manufacturing method," and I felt extremely happy. Overall, I think it was great that we were able to coordinate with our partner company and move swiftly to meet their needs at each stage.
■ Developing a comprehensive CDMO3) business
―Will your research progress further?
Our customer was very grateful, commenting that "only Spera said they would undertake investigation on such a complicated manufacturing method," and I felt extremely happy. Overall, I think it was great that we were able to coordinate with our partner company and move swiftly to meet their needs at each stage.
*3 Contract Development Manufacturing Organization
―Please give us an appeal point.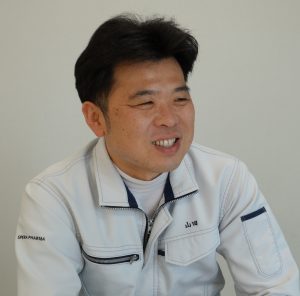 The asymmetric ligands actually developed by us can be purchased as reagents 4) and are highly evaluated in several fields. One of SPERA PHARMA's strengths is that for many research themes, and even after the supply of APIs, we can seamlessly carry out important tasks for drug applications, such as quality control, formulation, and evaluation in various clinical trials. In research fields such as drug development, formulation and analysis we will collaborate to provide the highest quality results at each development stage.
*4 e.g. (R)-DTBM-BINAP, CAS: 705281-18-1, Fujifilm Wako Pure Chemical Industries, Ltd.
―What is your future development as a CDMO?
We operate in the field of CMC (Chemistry, Manufacturing, and Control), which covers areas from non-clinical to clinical trials and launch. Since SPERA PHARMA is entrusted with work at extremely important stages by its customers, we produce the CMC research results according to our customers' development schedule with a sense of speed and certainty toward commercialization.
We have deepened cooperation within the Iwaki Group, which entered the market in March 2020, and have become able to undertake a wide range of contracts from raw material procurement to commercial production of APIs. If you consult with us we will respond in a thorough and comprehensive manner, so we hope that you will make use of SPERA PHARMA's technological capabilities to solve your problems.
---
As CMC research experts, SPERA PHARMA provides all round support for customers' problem solving, from R & D in the early stages of development to investigational drug manufacturing, analysis, application support and consulting. In addition, we have established a cooperative system with partner companies, and a one-stop service is also possible. Please choose us as a platform for your drug development.
■ About inquiries
Please feel free to contact us from here for consultation regarding outsourcing.